Why Macromill Carenet?
We can find the right solution for the challenges facing your business, with our wide-ranging research method, medical research panels, which are among the largest in Japan, and extensive knowhow built up over 30,000 annual projects spanning 20+ years.
Support across all marketing phases and research processes for ethical pharmaceuticals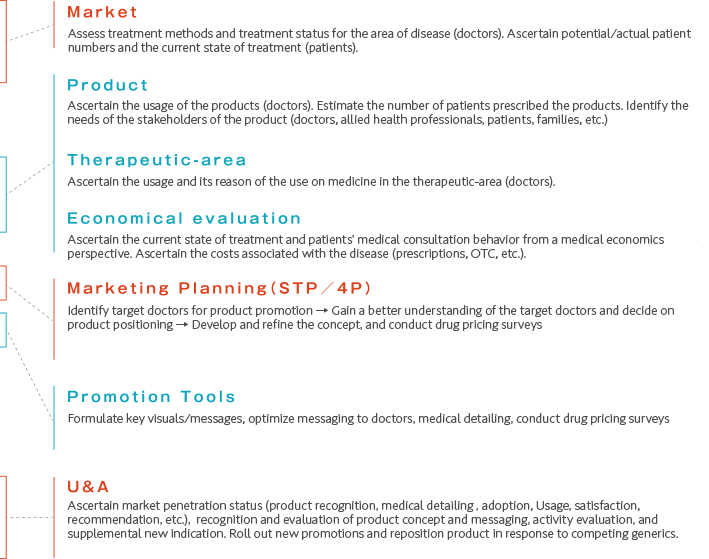 Environmental analysis → Target areas/diseases

Market

Assess treatment methods and treatment status for the therapeutic area (doctors). Ascertain potential/actual patient numbers and the current state of treatment (patients).

Drug development

Non-clinical trials → Clinical trials

Product

Ascertain how the product would be used (doctors). Estimate the number of patients who would be prescribed the product. Identify the needs of the stakeholders of the product (doctors, allied health professionals, patients, families, etc.)

Therapeutic-area

Ascertain which pharmaceuticals are being used in the applicable therapeutic area, as well as how and why (doctors).

Economical evaluation

Ascertain the current state of treatment and patients' medical consultation behavior from a medical economics perspective. Ascertain the costs associated with the disease (prescriptions, OTC, etc.).

Application for approval

MarketingPlanning(STP/4P)

Identify which doctors to target for product promotion → Gain a better understanding of the target doctors and decide on product positioning → Develop and refine the concept, and conduct drug pricing surveys

Approval

PromotionTools

キービジュアル/キーメッセージの策定、ドクターへの最適なメッセージ、ディテーリングストーリーの策定、薬剤価格の調査

Listing on NHI Drug Price Standard

Product launch

Post-marketing surveillance

U & A

Ascertain market penetration status (product recognition, coverage, adoption, use, satisfaction, recommendation, etc.), recognition and evaluation of product concept and messaging, activity evaluation, and impact from additional indications and additional dosage formulations. Roll out new promotions and reposition product in response to competing generics.
Our Panels
We will find the right research respondents for your business from our extensive medical research panels, which are among the largest in Japan.